The release of Billie Eilish's latest video "Xanny" is bound to generate much discussion in the music sphere. Named for the anti-anxiety pill turned recreational drug, Billie sings about never wanting to even try Xanax. She takes a stand against the addictive and destructive nature of such habits. This is in the face of a prevalent mood in pop culture especially within hip-hop circles, whereby artists both romanticise and lament their dependency on the drug.
Xanax is a benzodiazepine, commonly used to treat anxiety and panic disorders. It acts by interacting with a neurotransmitter receptor in the brain associated with inhibiting brain activity. By this way, Xanax helps keep your brain from becoming overactive and promotes relaxation. Being a sedative, popping a Xanny results in users feeling simply relaxed.However, it is designed as a short-term prescription drug, and tolerance builds up quickly. Long-term users soon find themselves chasing that relaxed vibe more and more and addiction works fast, in a similar mechanism to cannibinoids and opioids (although while opioids give users a euphoric feeling, benzos just chill you out). Xanax addiction is rampant across the UK, the US, and Australia.One suggested reason for its rise in popularity is due to its prominence in music lyrics. However, in her chorus, Billie sings:
I'm in their secondhand smoke
Still just drinking canned Coke
I don't need a Xanny to feel better
On designated drives home
Only one who's not stoned
Don't give me a Xanny, now or ever
These lyrics come in the context of another young artist who died from a bad batch of Xanax, overdosing on fentanyl. Lil Peep (real name Gustav Elijah Åhr) may fit in a different genre to Billie, but he embodied the rise of a new generation of artists doing it their way with an ability to cross boundaries and expectations in the same way she does. His budding career was cut short because of his addiction to the drug. He was 21 years old.On his 2015 song "praying to the sky", he rapped about the anxiety in his head and why he took the pills to stop it:
I hear voices in my head, they tellin' me to call it quits
I found some Xanax in my bed
I took that shit, went back to sleep
They gon' miss me when I'm dead
I lay my head and rest in peace
I'm prayin' to the sky, I don't even know why, ayy
Sadly, these lyrics proved to be prophetic and while his legacy lives on, and a post-humous album was released recently, his vision and success will never go to the next level.Following Gustav's death in 2017, artists swore off the drug and even started a brief #FuckXanax movement. No doubt that Billie considered this moment as a statement for her to make to her young fans.For wider context on who's singing and rapping about Xannies, a quick search on the world's foremost lyrics website Genius reveals some of the top songs featuring references to the drug:
Lil Uzi Vert – "XO TOUR Llif3"
The viral hit by Philadelphia rapper Lil Uzi Vert was a blockbuster single in 2017. It was officially recognised by Spotify as one of the most streamed songs of the year. Across all streaming platforms, it garnered 1.3 billion streams in around 6 months. It's best known for its hook "Push me to the edge, all my friends are dead", but it does feature these lines about Xanax:
I might blow my brain out (Hey)
Xanny, help the pain, yeah
Please, Xanny, make it go away
I'm committed, not addicted, but it keep control of me
All the pain, now I can't feel it
I swear that it's slowin' me, yeah
Juice WRLD – "Paranoid"
Alongside Lil Uzi, Chicagoan Jarad Higgins is also considered a pioneer of the burgeoning emo rap scene. Juice WRLD has a strong penchant for referencing depressed mental states and recreational drugs in his lyrics. At the age of 20 he already signed a $3 million deal with Interscope records.Viral single "Paranoid" opens with these lyrics:
Just another day without you
I can't go a day without you
Still xanax all on the counter
Remember I'm in love with the downers
Earl Sweatshirt – "Grief"
Stepping out of the shadow of his Odd Future heritage, Earl quickly made a name for being a young rapper exploring the real darkness of depression, anxiety and other grimy aspects of the human psyche. His particular brand of 'self-wokeness' resonated with fans and he continues pushing the envelope in artful dark rap, from his sophomore album named I don't like shit, I don't go outside, to his newest offering exploring the end of the world and the age of empires crumbling, Feet of Clay.
On his track "Grief", he raps:
Focused on my chatter
Ain't as frantic as my thoughts
Lately I've been panicking a lot
Feeling like I'm stranded in a mob
Scrambling for Xanax out the canister to pop
He also rapped about a disenfranchised youngsters popping Xannies like breakfast cereal on Frank Ocean's generation-defining "Super Rich Kids":
Close your eyes to what you can't imagine
We are the Xanny-gnashing
Caddy-smashing, bratty ass
A$AP Ferg – "Shabba"
Harlem rapper A$AP Ferg's "Shabba" is a popular party tune, with more than 90 million views on Youtube. Xannys get a shout-out in the middle of a sexually explicit verse.
Short nigga but my dick tall
What I told your bitch dog
Only thug nigga down at the Pitchfork
Dirty van bitches wanna suck my dick off
Pop a Xanny for a penny
While the song is more an homage to dancehall legend Shabba's legacy, the fact that xannys get a mention is made all the more poignant by the fact that A$AP Mob founder Yams died from a drug overdose in 2015. A$AP Rocky relayed the story to NY Times of how he found his close friend dying one night in Brooklyn:
"I just look at his face. I look at Lou. You could just tell. We knew," Rocky said. "I was scared," he said. "I was wilding on everybody, like, 'Who let him do drugs?,' even though you can't blame nobody."
While his close friends maintain that Yams' chronic conditions including sleep apnea contributed to his death, New York City's medical examiner reported that Yams' death was caused by acute mixed drug intoxication, including opiates and benzodiazepine. It was a well-known fact that Yams had an ongoing struggle with dugs, particularly Xanax and lean.Rocky also told Esquire magazine later in 2015:
I sold drugs I'm not proud of when I was 15. As I got older, I was known for selling marijuana. I don't recommend heroin, crack, meth, Xanax, OxyContin or opium. Did I ever try crack? Hell no! Crack is like something out of The Lord of the Rings. Once you fuck with the Ring, it sticks with you.
J Cole – "KOD"
J Cole's 2018 loose concept album was named for the perils Cole saw plaguing his young fans. The acronym took on several meanings, in chronological and narrative order: "Kids On Drugs", "King OverDosed", and "Kill Our Demons". The album takes listeners on a journey through addiction, hedonism and self-actualisation as J Cole attempts to provide alternatives to a life of self-destructive behaviours. He's also preaching to himself along the way.In title track "KOD", Cole raps:
My homie got pharmaceutical plug
I smoke the drug and it run through my vein…Power, greed
Money, Molly, weed
Percs, Xannys, lean, fame
And the strongest drug of them all
And the strongest drug of them all
Love
Also in the chorus in "Kevin's Heart":
Slip me a xanny at once (somebody)
I got the earth in a blunt (smoke)
I get the skirt when I want (skrrt!)
Cole also explained in the album trailer his motivation for writing KOD:
If I turn on the TV right now, it's not gon' take long for there to be an advertisement that pops up that says "Are you feeling down? Have you been having lonely thoughts?" And then they shove a pill in your face. The first response of any problems is medicate.
Future – "Thought It Was a Drought"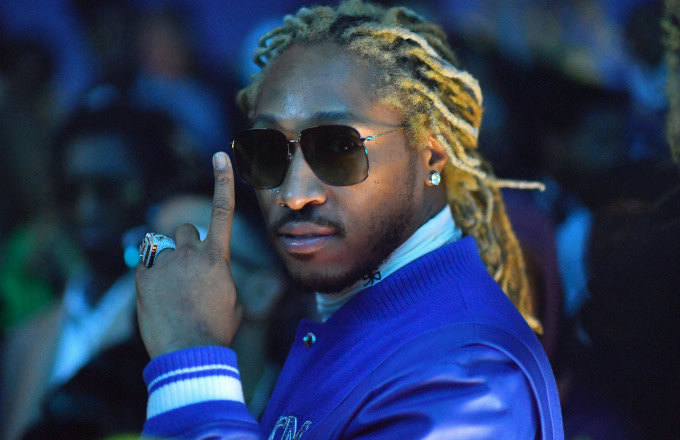 Atlanta's resident trap Pagliacco is well-known for his introspective and depressive lyrics. So much so that it's become something of a meme in hip-hop circles. He's definitely not one to shy away from his reliance on prescription drugs to keep the darkness at bay.
Got these meds on me, I'ma do 'em
I take these pills and I'm having a thrill
Taking prescription's a hell of a feeling
As for the xanny, I never forgot it
He also features on Drake's track "Grammys":
Gonna peel off like a bandit
I'm noddin' off on a Xanax
Get pissed off, start airin' it
Get a head start, ain't friendly
In a January 2019 interview with Rolling Stone, Future however reflects on hisaddictions, most notably lean (a popular mixed drink consisting of codeine cough syrup and Sprite).Aan interaction with a teenaged Juice WRLD made him realise how messed up his past self was. While working on his 2018 mixtape WRLD on Drugs, Juice told Future that he was the first rapper to inspire him to try drinking lean.
When he told me that, I was like 'Oh shit. What the fuck have I done?'…It really bothered me. It bothered me a lot. More than that I thought it would bother me when he told me that. I didn't think I'd care about that stuff. Four years ago, I probably wouldn't have cared if he told me: 'Oh, that was good you was drinking.' Now it's like, 'Oh shit.' How many other sixth-graders did I influence to drink lean?

I wasn't aware of that influence, but now I'm aware of how much it influenced. It's like, this shit really fucked me up for a minute. It's all I could think about. Like, 'Damn, what have I done? What have I done to other people? What I did to myself?'
However, he expresses no regret at being true to himself at the time, even if he does acknowledge that his music does have a far-reaching impact, especially on the youth.
Lil Wayne – "Rich as Fuck"
A Venn diagram of Weezy songs and drug references would basically be a circle (or maybe that is more applicable to 'pussy'…anyway, I digress). More significantly, the sound of 'woozy autotune' we tend to associate with 'drug rap' is considered to be pioneered by Lil Wayne. While Xanax and the opioid crisis is considered a product of more recent times, Lil Wayne was rapping about it way back in 2013:
And I got Xanax, Percocet, Promethazine with Codeine
Call me Mr. Sandman, I'm sellin' all these hoes dreams
Interestingly, his 2007 track "I Feel Like Dying" is also considered a progenitor for today's youth's obsession with 'emo rap' and other drug-obsessed music. Wayne blurred the line between user and dealer and opened up emotionally in an influential way.
Psst! I can mingle with the stars, and throw a party on Mars
I am a prisoner locked up behind Xanax bars
I have just boarded a plane without a pilot
And violets are blue, roses are red
Daisies are yellow, the flowers are dead
Furthermore, according to the Drug Slang in Hip Hop Project by research group Project Know, 2007 was a turning point for hip-hop and references to pharmaceutical drugs for recreation.
blackbear – "do re mi"
Away from the hardcore veterans of rap, Daytona Beach 27 year old Matthew Tyler Musto is part of the cross-genre, multi-instrumentalist, viral artist trope we see more and more of going into the 2020s. While he's covered in tattoos, he sing-raps over trap-style beats, and is slickly produced. His sound is also more pop-friendly, appealing to a wider audience than perhaps others on this list. On his viral hit "do re mi", he sings:
Designer shoes and Xanax tabs
Complements your make-up bag
You never had to buy yourself a drink
'Cause everybody want to tap that ass sometime
$uicideboy$ – "I No Longer Fear the Razor Guarding My Heel"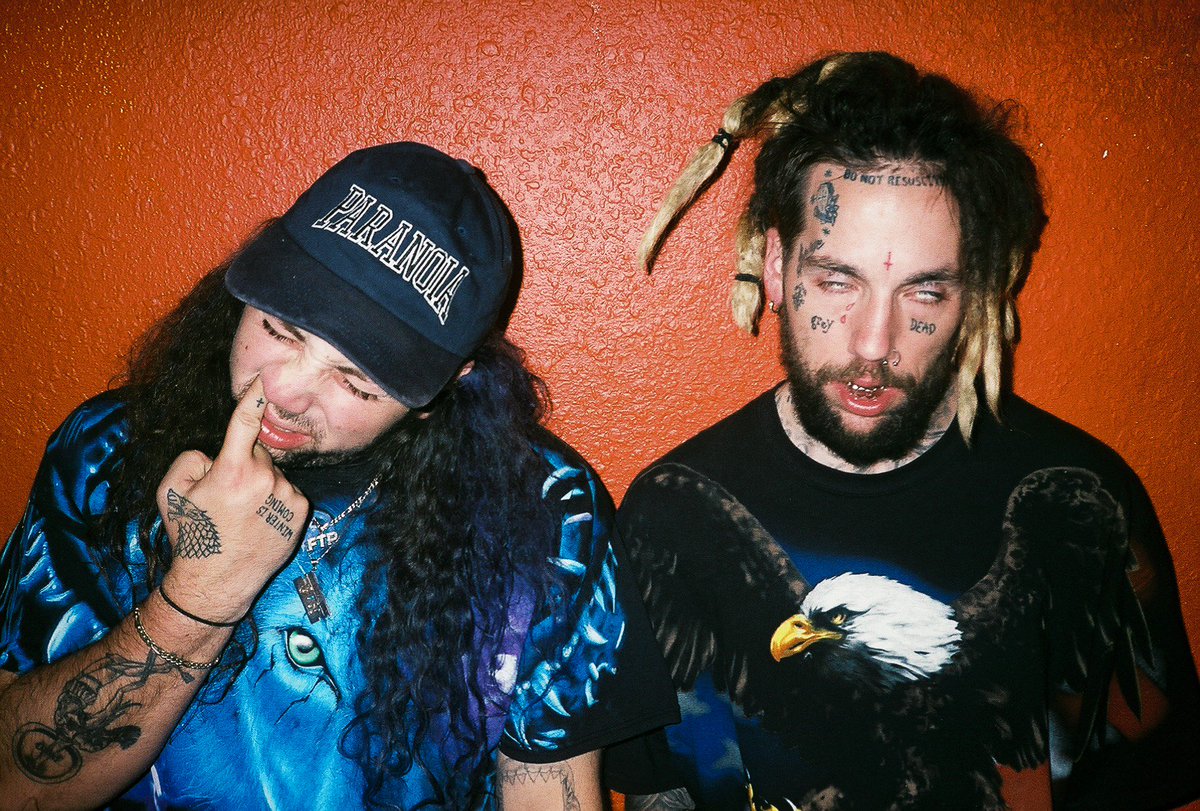 We round out this list with the aptly named $uicideboy$. Hailing from New Orleans, this duo made a name for themselves for their aggression and melding of metal, rap and horrorcore influences.
Walk in with a dead bitch, and a Swisher lit, drug kit
Got a half-hit worth of acid, can't quit, I'm an addict
So traumatic, and I'm manic
Feeling panicked, I need a Xanax
Pass it, as I OD real slowly
Lonely, looking ghostly
Surrounded by smoky mirror images of a fictionist, sober me
Don't give a fuck about harming me
I'm druggin' 'till I R.I.P
Their style embodies a darker side of drug abuse. Instead of a sexy, glossed up version, or a depressive, chilled out vibe, $uicideboy$ literally scream at the demons tearing at their insides. This one is not for the faint of heart.
---
These are just a few of the big-name artists who are singing and rapping about Xanax. As all artists do, they use their own personal battles to inform their lyrics. By expressing themselves, they are able to share their struggles with a wide listening audience. Sharing their pain is a helpful coping mechanism. However, the disease of addiction is that – a disease, and it must be treated.
As hip-hop music and culture crosses over into the mainstream, these ideas will be disseminated far and wide faster than before. Although influential figures like Billie Eilish advocate for sober and clean futures, the numbers are against her. It's up to us to stay informed and engage in the public discussion on how to not just demonise artists who share these struggles, but understand where they're coming from and why they may turn to drugs like Xanax in the first place.
---
Further Reading and Viewing:
Mindfulness techniques have been clinically proven to have the same effect as Xanax and other anti-anxiety drugs. As J Cole raps on "Motiv8":
I know you say it helps and no I'm not trying to offend
But I know depression and drug addiction don't blend
Reality distorts and then you get lost in the wind
And I done seen the combo take niggas off the deep end
One thing about your demons they bound to catch up one day
I'd rather see you stand up and face them than run away
I understand this message is not the coolest to say
But if you down to try it I know of a better way
Meditate