This year was full of surprises: a global pandemic, Tik Tok millionaires, police brutality leading to worldwide protests…and an Eminem double release. While the live music and entertainment sectors were devastated by COVID-19, we consumed more digital content in more ways than ever before.
As we look back on 2020, here is a list of my picks for MVPs of the year from a variety of media, but primarily related to music. The criteria for this ranking has to do with their impact on the wider global culture, or how their work encompasses or symbolises some aspect of this most unlikeliest of years. Or it could have been I just heaps dug their vibes in 2020.
In the future, when I think back to 2020, this will be the list of music and art that sums it all up. Let's go!
20. Ludwig Göransson
The Swedish whiz is not only responsible for Childish Gambino's renaissance as a funk god, the acclaimed Black Panther soundtrack, and the time-bending pounding beat of Christopher Nolan's Tenet. Göransson is also largely responsible for breathing new life into the corpse that was Disney's Star Wars universe!
Classic Star Wars and its score are iconic bedfellows. For a new generation and a new story, Göransson created a blend of Western cowboy tones with meditative samurai atmospherics on The Mandalorian. His score became as vital a part of the series as Baby Yoda merchandise or bounty hunter memes. John Williams would be proud!
19. DOMi & JD Beck
What do you get when you raise two Gen Z kids on memes and feed them nothing but Thelonious Monk and Snarky Puppy vinyls? You get DOMi & JD Beck. They don't have any official releases as a duo, but the two teenagers have already made a name for themselves as the future of jazz.
I discovered them during Thundercat's spot on Adult Swim Festival online (also featuring an unassuming Ariana Grande), and instantly went on a deep dive of all their available material on Youtube. They have full concerts and various drum and keyboard features online, but most recently uploaded a Madvillainy tribute, confirming that you may as well just give up trying to be cool as long as DOMi & JD Beck are around. This tribute is all the more poignant given MF DOOM's recent passing.
18. Eminem
Music To Be Murdered By was a surprise release back in January. It was a blazing run-through of Eminem's skills as a wordsmith and storyteller, as well as him showcasing an ability to maintain superiority in relevance, enlisting the likes of Don Toliver, Juice WRLD and Young M.A. I even published a piece on Genius showing how "Godzilla" is even faster than "Rap God".
That would probably have been enough for other artists, but Em out-did himself with a book-ended 2020. Music To Be Murdered By – Side B was another surprise release in December. Largely produced and written in quarantine, Em's beat selection as producer, and features with Ty Dolla $ign and Dre…? Just *chef's kiss*. For this double release, and his lines about Mike Pence on "Gnat", Em gets a pick for one of my MVPs of the year.
Ain't nothin' you say could ever trump (Nah)
Mic, pencil get killed (Yeah)
If you're hypersensitive
I wasn't referencin' the vice president, chill (Chill)
I mean my penmanship at times tends to get ill
Violence but with skill
That's why I hence when I write ends up
With the mic and pencil gettin' killed
(Haha, yeah, hold up)
17. The Kid Laroi
Harnessing the power of social media, Sydney's prodigal son became a hip-hop household name faster than you can say "No I don't know any Tik Tok dances". In no small part thanks to his association with mentor Juice WRLD, The Kid Laroi's undeniable talent as well as his fierce hunger for success has proven to be a trailblazing combination, shooting straight for the big leagues Stateside. In 2020, he scored hugely viral hits, and landed high profile collaborations with the likes of Lyrical Lemonade and Genius. Onya son!
16. Ariana Grande
Earlier this year, I published a piece on Pop Music & Fourth Wave Feminism – exploring the new wave of female creators brandishing their sexuality as proudly their own. Another prominent artist of this ilk features on this list.
The slow creep of sexual undertones in Ariana's lyrics reached a new level of absurdity with her latest release Positions. The second single is titled "34+35", leaving nothing to the imagination. Her vocal prowess is undisputed, but the way in which she wields it with each new album…?
A total lack of creativity in songwriting? Or genius subversion of patriarchal standards in media? You be the judge.
15. Tim Henson (Polyphia)
And speaking of Ariana, here is guitar God Tim Henson putting his signature math-prog-core spin her horny pop anthem "Positions". He originally posted it on Tik Tok, but due to its popularity, he uploaded a 10-minute loop on his Youtube channel
In late December, Henson also began uploading in-depth tutorials, showing how he is sometimes inspired by the likes of Kanye and Taylor Swift in his songwriting.
He also left us with some wise words to live by in said video. For this quote, Henson gets an MVP pick:
Just because you don't like something doesn't mean it's not objectively good.
14. Aunty Donna's Big Ol' House of Fun
If Monty Python had a lovechild with Adult Swim and that lovechild grew up in the hip streets of Brunswick, Melbourne forgetting to take its adderall…you'd end up with something resembling the manic genius that is Aunty Donna.
Blending surrealistic sketch humour with musical bits and loosely tied together sitcom-esque narratives, the Aussie comedy group's Netflix debut was the breath of fresh air we needed in the claustrophobic atmosphere of enforced lockdowns and quarantine. It's not everyone's cup of tea, but their writing and performances warrant a feature on my MVP list of 2020.
13. Andrew Callaghan (All Gas No Brakes)
Starting as a documentary series of weird and wonderful goofs (astral projection and furries anyone?), All Gas No Brakes quickly became one of the most underrated and crucial journalistic voices of 2020. A kind of post-post-modern take on Gonzo journalism, Andrew Callaghan put himself on the frontline of Black Lives Matter protests and anti-lockdown demonstrations to end up with some of the most compelling footage from a historically tumultuous year.
Plus, in almost every video, Andrew manages to find one freestyle rapper eager to spit into the mic.
12. Jason Aalon Butler (Fever 333)
LA's loudest son Jason Aalon Butler is one of the most charismatic and hardworking frontmen in the punk/hardcore scene. His previous project letlive. is but a distant memory as the politically charged Fever 333 carries the torch of their spiritual predecessor Rage Against The Machine. Their livestream concert event was broadcast at the peak of political turmoil in the US with Butler screaming righteous anger over flashing images of police brutality and names of the dead.
Furthermore, he featured on a live panel hosted by Emo Nite LA alongside other prominent POC in the scene to talk about one of the least talked about issues in the scene…why is the punk scene so damn white? (Summarised here in Issue 4 of the deadset.press newsletter).
11. Eric Andre
Eric Andre's absurdist experimental talk show reached its zenith this year. This, his fifth season, had the largest budget yet, and some of the biggest shocks with it. Although the psychological torture of his guests is no longer an industry secret, he still manages to raise the bar of shock and discomfort time and time again. Definitely not for the faint of heart, but something that never fails to liven my day up. 
One easily digestible highlight is the return of the Rapper Ninja Warrior segment:
10. Chess
Making its debut in 1475, the game of chess finally experienced its sexy pop culture moment almost 550 years later. The exquisite mini-series The Queen's Gambit on Netflix brought chess to the forefront of viewers' imaginations, thanks to the captivating performance of its lead Anya Taylor-Joy, sumptuous production and heartfelt writing. 
Screenwriter Scott Frank originally obtained the rights to the novel of the same name in 1992, but failed many many times to get it into development. Originally billed as a film to be directed by the late Heath Ledger, the story finally found a home as a Netflix Original Series, perfectly timed for a year of quarantine and people searching for tales of inspiration and hope.
9. Hayley Williams
The former princess of pop punk underwent a drastic reinvention with the release of her debut solo record Petals For Armor. Despite years of success and admiration, her in-depth and extremely personal interview with Zane Lowe revealed a tale wrought with broken hearts, depression and raw struggle. She managed to channel these experiences into a beautifully realised record, as diverse as it is mesmerising.  
For millennials such as myself, growing up alongside the idols of our childhood comes with pitfalls. Sharing in these struggles with artists such as Hayley Williams makes the road a little less challenging. 
8. Claudia Conway
An unlikely addition to my list of MVPs, but Claudia Conway's tale is a fascinating one. The vocally LibLeft daughter of Trump-et Kellyanne Conway was already something of a Gen Z celebrity for her presence on Tik Tok. However, that online subculture reality spilled over into real world reality when she broke the news of her mum's COVID diagnosis, thus blowing the lid off the White House COVID situation. She had already posted jokes about it on her Tik Tok feed well before mainstream media had the news.
As GOP-party faithful left, right and centre started announcing positive diagnoses, Claudia Conway's social media interaction and ensuing real-life media furore became a perfect time capsule of 2020.
The fact that she posted with a sound excerpt from the wonderfully explicit "Vagina" by CupcakKe is just icing on the cake. Can't wait to study 2020 in the history books…(Click the image below to view her original Tik Tok)
7. Dua Lipa
From enjoyable yet largely disposable pop singer to undisputed disco revival queen of 2020, Dua Lipa has had quite a busy year. Future Nostalgia is that rare pop record filled with influence from the assured past, but forward-thinking and fresh enough to never be stale. Her mix of disco, funk and pop became an optimistic escape for 2020. It's impossible to remain depressed too long once the bassline to "Don't Start Now" kicks in. 
Just let Youtube breakout star juliaplaybass remind you of that:
Not content with releasing one of the best pop records in recent memory, Dua Lipa kicked it into next gear with a deluxe Club Mix release and Livestream event under the name of Studio 2054. The Club Mix featured big names such as Mark Ronson, yaeji, Missy Elliott, Jamiroquai and Gwen Stefani, lending even more longevity and spice to an already spicy record.
Now if we could just get her to release an Albanian nationalist concept album, then she would truly impress…
6. Onefour
Hip-hop as a global language has been on a simmer for a long time. With a new decade upon us, it's time for it to come to a full boil and overflow! I have spilled much ink over the young upstarts from Western Sydney, but they truly are breaking ground like no other Australian artist before them.
2020 was a stellar year for Onefour and their crew and their debut EP, knowingly titled Against All Odds, is an open letter to fans and critics – thanking the former and defying the latter. I have no doubt that once COVID restrictions lift, their philosophy, energy and music will continue to show the new face of Australia and of hip-hop globally.
Click here to read my in-depth look at the career paths of both Onefour and The Kid Laroi and the implications it has for the culture both at home and abroad,
5. Phoebe Bridgers
Between her iconic Twitter feed, "Iris" cover and love of memes, it's easy to forget that Phoebe Bridgers is one of the defining voices of this generation of singer-songwriters.
Punisher is a post-indie, metamodernist evaluation of life, love, loss and laughter. It's a perfectly soul-feeding soundtrack for these unprecedented times. For even more heartbreak, she also released a stripped EP called Copycat Killer.
4. BTS & Their Army
The boyband industrial complex may have already seen its heyday in the West, but in South Korea, the machine is well oiled and running at max capacity. For J-Hope, Suga, V, Jimin, Jungkook, Jin, and RM, 2020 was a year unlike any other. They were named Time's Entertainer of the Year, achieved several Number 1s on many charts, and recently became the first Korean group ever to be nominated for a Grammy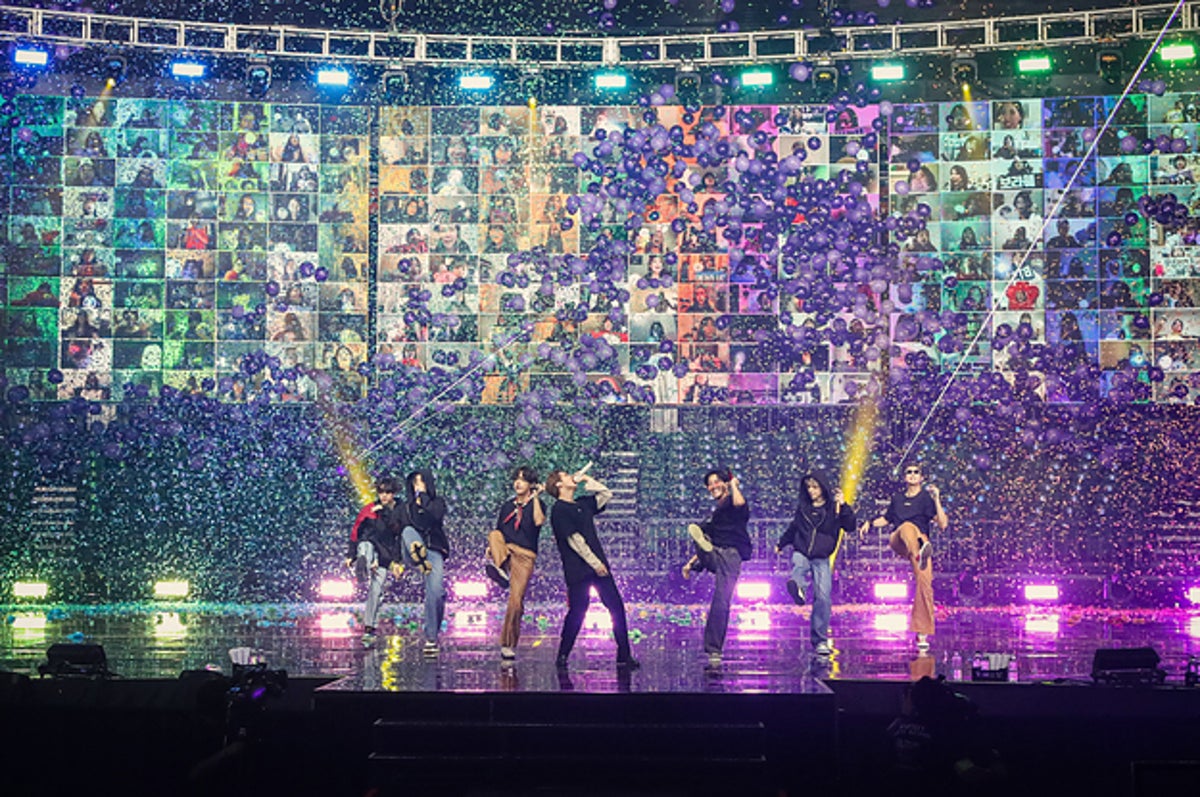 Outside of music industry metrics, the world also saw the might of weaponised Kpop stans. Ironically named #BTSARMY, these Kpop fanatics rallied together in two major ways in 2020: the first in matching BTS' $1 million donation to Black Lives Matter (in less than 24 hours), and more impressively in reportedly trolling a Trump rally in June to seriously over-calculate attendance leading to this viral image of a deflated and demoralised President Trump. Who could have ever predicted that Forbes and Bloomberg would dedicate airtime to Kpop's influence on American politics?
Maybe Washington D.C. should've hired #ARMY fans to protect Capitol Hill this week instead…
3. Cardi B & Megan Thee Stallion
While the world came to grips with isolation, political polarisation, sickness and death, it took two brazen, questionably-clad women to remind everyone that sometimes, a bit of titillation is enough to unite us all. 
Cardi B already has a reputation for running her mouth. Her peak in popularity was arguably a few years back already with her debut studio album Invasion of Privacy dropping in 2018. However, on this power collab with even an even fresher female MC, she injected herself back onto centrestage.
Fresh off the back of her viral "Savage" and its subsequent remix featuring Beyonce, Megan Thee Stallion's year was guaranteed to be huge, regardless of the power of "WAP". The track quickly became the unlikeliest of feminist anthems. We've been listening to male artists rap about their dicks and sexual conquests for years, so why when a woman does the same thing, political pundits feel the need to weigh in with their archaic ideas?
While there is something to be said about introducing these ideas to the mainstream and to an increasingly younger listenership (see Ariana Grande above), "WAP" is a timely subversion of industry standards and misogynistic ideals – a much needed makeover for hip-hop and the entertainment world as a whole.
2. Run The Jewels
Run The Jewels 4 was a highly anticipated record even before we all knew what 2020 would entail (check out my brief write-up as to why it's one of my top records of the year published on Swine Daily). They even leaked the record early themselves in response to the death of George Floyd and ensuing chaos.
Every Killer Mike and El-P collaboration is equal parts energy, rage, and heart. On "holy calamafuck", there's a line I misheard "troops" for "truth", but I feel like the misheard lyrics carries even more weight to it:
Fuck shit glows in the hearts of the brutes

You hate Run The Jewels, you don't love the *truth*
Killer Mike gets even more 2020 MVP kudos for his continual involvement in politics. From his work with Bernie Sanders, to his emotional press conference in Atlanta, to his work in Black finance, the rapper truly puts his money where his mouth is.
1. Taylor Swift & Her Cottagecore Revolution
In the midst of the craziness that was 2020, an aesthetic with roots in Tumblr c. 2011 experienced a resurgence. The idea of cottagecore – forests, banjos, beards, plaid jackets, fireplaces and log cabins – became all the more attractive as the pandemic brought the modern rat race to an existential standstill.
Possibly one of the most fitting icons of our time, Taylor Swift dropped a surprise album that was the culmination of her own retreat into the forest. folklore (and its sister album evermore released just before Christmas) is a return to Swift's storytelling roots, stripped of all pop glitz, glamour, and Ed Sheeran features.
Bon Iver famously retreated to a cabin in the woods almost 15 years ago to create a zeitgeist record of his time. It's only fitting that The Blonde One enlisted his help for this career-defining collection of songs. But even more integral to this rootsy, cottagecore renaissance is the understated influence of Aaron Dessner and The National.
Swift has always been a precocious songwriter, and 2020 allowed her ability to craft melody, harmony and narrative to fully shine. For a year that really pushed many of us ordinary folks to our limits, a double album like folklore and evermore was an oasis of peace and atmosphere we didn't know we were searching for.
On top of this stellar musical year, Swift is also making a revolution of her own in the business side of things. Her ongoing legal battles over her masters sheds light on artists' rights and all the shady goings on behind the scenes in the music industry – especially regarding the position of young impressionable females. As she embarks on her mission to re-record her entire backcatalog, there's plenty more fuel to this fire.
At the ripe old age of 30, Swift has already changed the music industry with every album cycle and artistic reinvention. The way she feeds into the celebrity narrative and yet somehow subverts it at the same time is no small feat. For these reasons, and more, she is my choice for the #1 MVP of 2020.