On the outskirts of Australian well-to-do society, Western Sydney is commonly stereotyped as a crime-ridden backwater. However, for a group of young rap enthusiasts, Mt Druitt is a home they are proud of. Onefour is a collective of a young men using music as a gateway to a better life. Their hard-hitting style of rap has resonated with a generation of music fans who have grown up on streaming, unencumbered by global distance or cultural differences. Yet, as their profile has grown, authorities have repeatedly stood in their way. Onefour's story, as it unfolds, reveals the dark underbelly of Australia's contentious relationship between law and order, race, and artistry.
No Censor
Onefour's style of rap has roots in the London scene known as drill. Itself an iteration of Chicago drill rap, London drill is characterised by heavy beats and fast-paced lyrics depicting violence, aggression and tales from urban neighourhoods. It's a contemporary, gritty incarnation of the flashy gangsta rap of previous generations. 
Drill groups gain notoriety primarily through social media, especially on Youtube. However, many groups have been accused of "inciting violence" because of their lyrics. Consequently, many artists have been doggedly pursued in recent years. 
In the UK, "Inciting violence" is classed as an illegal activity. It's vague enough that London Met Commander Jim Stokley confirmed to The Times that police effectively move the goalposts on what exactly constitutes 'inciting violence'. UK police have the authority to objectively decide who and what falls under this category of 'inciting violence', without having to provide any concrete proof linking music or videos to specific acts of violence. 
If the police think you're a gang member, then that's all you'll ever be to them.
In two short years, the London Met Police have exercised this power liberally. In June 2018, they made an unprecedented move to ban London group 1011 from making any lyrical references to injury, death and even postcodes. They cited a direct causative link between London drill rap and an increase in overall London knife crime throughout 2018.
They have also applied pressure to Youtube to remove  scores of music videos from independent drill artists, the most recent being in early December – a song aptly named "No Censor" by a group called Zone 2. 
The watchdog institute Index of Censorship condemned this move by the UK police. Chief Executive Jodie Ginsberg said: 
Banning a kind of music is not the way to handle ideas or opinions that are distasteful or disturbing. This isn't going to address the issues that lead to the creation of this kind of music, nor should we be creating a precedent in which certain forms of art which include violent images or ideas are banned. We need to tackle actual violence, not ideas and opinions.
"Now everybody wants to drill, ching, shoot"
For the core members of Onefour, Spenny, YP, J-Emz and Lekks, 2019 was a dream come true. In 2014, a youth initiative program called Street University taught them to express themselves through rap. Five years later, they are industry-recognised artists with co-signs from global artists. Youtube even revealed them as having 3 of the Top 10 most-trending Australian videos of the year. Their viral success propelled them further than any Australian rap group before, let alone one from the suburbs of Mt Druitt.
However, just as the good news was piling up, a storm of trials and tribulations was blowing in.
As their popularity grew, mounting pressures from authorities meant that the group had to be relegated to surprise pop-up performances in smaller venues. This included a secret show at the Lansdowne Hotel in August (see below), and more recently at The Kid Laroi's homecoming show in Sydney.
In the November-December period, Onefour were poised for a breakthrough national tour. It was supposed to be their victory lap before embarking on an invigorated and purposeful new direction in their music careers. Their latest single "In The Beginning" was actually named for this new chapter of their career beginning.
However, artist management was advised by police to cancel their Melbourne show, followed by Adelaide. They even faced opposition overseas in New Zealand. Manager Ricky Simandjuntak spoke with Deadset, saying:
I think we kind of expected something to happen in Sydney, but we were surprised that the NSW police went to such lengths to shut down shows in Melbourne and Adelaide, and even to then try and contact the police in Auckland to shut down those shows…it really seemed that they went to extra lengths for this.
Ultimately the entire tour was cancelled. Even when they played their only remaining show in Auckland, J Emz was denied entry due to visa complications, Lekks was already in jail, and YP was due for sentencing in an ongoing court case in Sydney. While initial reports said that it was the venues' choice to cancel these shows, the reality was quite different.
In an investigation by ABC's Osman Faruqi, Sergeant Nathan Trueman confirmed a Triple J Hack report that police 'advised' venues to reconsider their hosting of Onefour concerts. While police did not officially tell venues to cancel shows, they did set down some stringent guidelines.
In a letter to 170 Russell in Melbourne, Victorian police wrote:
Please be advised that if incidents of violence and disorder continue to occur at your premises after having been warned of these concerns, consideration will be given to making an application to the Victorian Commission for Gambling and Liquor Regulation to vary, suspend or cancel the licence.
Needless to say, the venue decided to cancel the show.
Trueman also went so far as to liken Onefour's activities to that of violent bikie gangs, Hells Angels or Comancheros. He had no qualms in stating to the ABC:
Every aspect of your life. I'm going to make it uncomfortable for you.
Curiously, just a few months earlier, a controversial neo-Nazi concert in Melbourne almost went ahead. White supremacist groups Hammerskins and Blood and Honour were hosting a secret concert in October. These groups have been banned in Europe and have even been directly linked to racially motivated attacks in the US.
However, despite a 28,000-strong petition, Victorian premier Daniel Andrews admitted that legislative "deficiencies"  prevented authorities from acting on the planned event in advance. The event was eventually cancelled, but under mysterious circumstances.
On the one hand, legitimate neo-Nazi bands touting racial hatred and discrimination are allowed to play due to a government effectively saying 'sorry our hands are tied'. On the other, a group of young Islander men are trying to use music as a way out of their former lives of violence and aggression, and a police strike squad is sent after them.
At which point does one qualify for police strike squads to intervene, and which one doesn't?
This behaviour is emblematic of a system that is inept when it comes to dealing with people of colour and artistic expression.
"Why when a fucking black kid says it, it's such a big fucking deal?"
While it cannot be simply put down to a question of race, its role cannot be denied. For fellow Pacific Islander/Mt Druitt resident and writer/journo Winnie Dunn, seeing a group like Onefour make it on the global stage was huge for her and her siblings. Finally, someone who looked like them and was proud and powerful was stepping up for them in mainstream culture.
Still, why do these men fixate on rapping about 'thug life'? She explained it as something that stems from the core of Aussie hypermasculinity; especially as experienced and displayed by males from ethnic minorities:
Put simply, young men from minorities perform the 'gangsta' because it is empowering to scare racist white people. 

Performative masculinity comes from the wound of racism and marginalisation.
It's arguable that this philosophy is what gives hip-hop its energy. There is a danger and a thrill that comes from these lyrics. From its very origins, hip-hop was borne out of oppression and pain. In parallel, the white, middle-class, establishment has been afraid every step of the way.
The roots of hip-hop as a culture are found in the marginalised and impoverished boroughs of 1970s New York City. In the book Anthology of Rap published by Yale University Press, the writers state (NPR excerpt here):
In defiance of circumstance, a generation of young people—mostly black and brown—crafted a rich culture of words and song, of art and movement…

Rap today bears the legacy of this inaugural generation and, as a consequence, is rightly associated with African American culture…It is now the lingua franca of global youth culture, varied in its expressions but rooted in a common past.
As an outward expression of their harsh realities, some have drawn comparisons with rap music being a modern form of poetry. Conservative critics argue that the core tenets of rap and hip-hop are inextricable from its musical and restrictive rhyme schemes, therefore discounting it as 'poetry' in its purest form.
However, posing the very question 'Is Rap Poetry?' carries a subtext of delegitimising rappers' messages (the racial subtext of the representation in the poetry establishment is another question altogether).
Who decides which 'art' displays "great skill" and which doesn't? This elitist cultural gatekeeping has the potential to cut out an entire swathe of artists searching for a voice. Ignoring, or trying to silence such voices is detrimental to all involved, and it's already happening.
Tyler The Creator is another controversial artist criticised for his lyrics including homophobic slurs and references to violence and rape. In 2012, he said this in response to an incredulous BBC interviewer asking about the deeper meaning of his lyrics: 
"Nothing. [It's] Shit to piss old white people off like you" 

"My lyrics aren't offensive. Some people find everything offensive"
In a 2011 SXSW interview, he also expressed his frustration at constantly being put under a microscope:
Everybody thinks about dark shit. Why when somebody finally fucking says it why's it such a big deal? … 'All he talks about is rape'. Have you seen Quentin Tarantino's fucking movie? Why does everyone fucking get their dick cut off or some shit? Why nobody say nothing about that? It's fucking art. Why when a fucking black kid says it, it's such a big fucking deal?
Tyler knows his lyrics are confronting, and poses the question on the validity of artistic expression and hip-hop. From Tyler's perspective, it's hypocritical for society to lavish one artist with awards and acclaim, while vilifying and even criminalising another expressing the same ideas. In the same year that Quentin Tarantino released the critically acclaimed Once Upon a Time In Hollywood, this question is still highly relevant. (This idea of violence as porn and audience gratification is also an ongoing public battle for Tarantino, and in fact serves as a thesis of the film).
In 2015, Tyler also faced controversy in Australia. He was banned on his WOLF tour due to activism from Australian feminist advocacy groups. However, he has evolved past those teenage years into a mature and respected artist. This year, he has even named Music Innovator of the Year by The Wall Street Journal, and is widely acknowledged as a unique and vital part of the pop culture landscape. 
If Tyler, The Creator had been banned from performing in his own home country, the visionary artist would never have been able to grow out of the punk-skater screwball persona who co-founded Odd Future. Tyler is now widely credited as a founding father of the 2010s alternative hip-hop scene, and in a poetic twist of fate, his newest music has also opened the space for non-binary gender discourse in a notoriously queer-phobic music scene. 
This begs the question, how many doors are being closed in the face of Onefour? The potential of elevating young men such as Spenny, Lekks, YP and J-Emz is being short-circuited in favour of an out-of-touch government obsessed with draconian laws for the sake of appearing 'tough on crime'. 
Whether it's about poverty, depression, addiction or other dark psychological areas, rappers are sharing their experience of reality. No matter how confronting, these artists are worth listening to in order to understand ourselves as a wider society better.
Crucially, this is all happening during a time when Australia is grappling with its patchy multicultural identity. Furthermore, Australian society is being forced to do so while facing a global cultural wave that is arguably still in its infancy down under. Hip-hop as a cultural entity is sweeping through the nation, forcing Australia to wake up to its many shortcomings.
The Authority to Kill a Minority
The story of Onefour and the NSW police echoes the story of another group of young upstarts who simply wanted to share their story. Or as founding member Ice Cube called it, their 'reality rap'. 
For N.W.A., their controversial breakout 1988 hit "Fuck Tha Police" resonated with a generation of alienated and angry black Americans. Their confrontational lyrics about police brutality, gang violence and drug addiction took them straight to the top, literally. Not only were the LAPD unimpressed, but F.B.I. Assistant Director Milt Ahlerich sent them a personal letter containing strongly worded warnings against public performances of that song.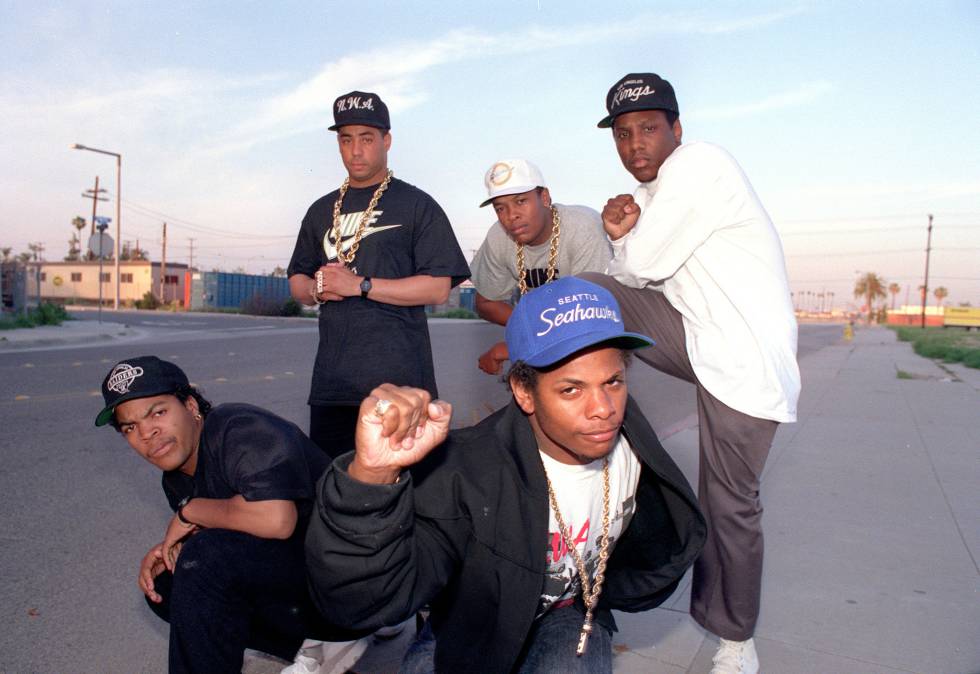 The ACLU (American Civil Liberties Union) condemned this act of policing freedom of speech. Activist, artist representative and ACLU member Danny Goldberg said: 
The result is to add to the feelings of alienation and separation from society, and those are the things that give rise to violence. . . . Rap is one of the most positive role models, a positive way for poor people using their energies, making art and poetry out of their social dilemma. They should be applauded by the police.
In his excellent 2015 Pitchfork Review piece on N.W.A., Eric Harvey argues that Eazy E, Ice Cube, Ren and Dre were doing more than laying down the foundations for 30 years of rap culture. They were active counter-agents in an emergent culture war being played out in the media landscape. The spoils of war: the hearts and minds of the American people.
Using popular TV show COPS as a foil, Harvey says that the early 90s was a time when identity politics and social-justice concerns became dangerously convoluted. This was perfectly captured in the reality form of entertainment being aired on TV networks nationwide.
N.W.A and Ice Cube not only provided a proxy voice for the disenfranchised, they pioneered a new language. By embracing the profiles created for them by racist law enforcement infrastructures and creating the hyperreal "gangsta" and "nigga" archetypes as caricatures of those profiles, N.W.A tossed a discursive Molotov Cocktail into suburban living rooms nationwide, creating a fierce black counterpublic to the pervasive rhetoric and action that was afforded by Reagan's wars on drugs and crime in black neighborhoods.
In their attempts to silence N.W.A., the police only managed to increase the group's popularity. It is estimated that more than 80% of Straight Outta Compton sales came from suburban America. In a 2002 LA Times article exploring the N.W.A. story, talent agent Jerry Heller said:
MTV banned the 'Straight Outta Compton' video and we sold 100,000 copies. A whole cultural phenomenon. Several months into it, Elle did a 10-page spread on gangster chic in the foreign edition. We did a Newsweek cover.
With the help of the FBI, N.W.A. "woke the music industry to the huge commercial possibilities of hardcore hip-hop". Without radio, TV support or publicity, the record went on to sell a staggering 3 million copies.
Interestingly, Triple J was in fact the only radio station in the world to give "Fuck The Police" airplay. Producer Nick Franklin was banned from radio for playing a clip during a news segment, ironically about the banning of the song in the US. In response, the radio station played another N.W.A. single "Express Yourself" on repeat for 24 hours. Notably, Triple J have been supportive of Onefour from the get-go.
"Cops took me for a hostage"
Reading rap lyrics to such a literal degree only exposes the tone-deafness of the ruling class regarding issues facing the under-class. It's as much an indictment on their view of the audience as it is on the artist. Alan Light, founding editor of the influential hip-hop magazine Vibe said: "The audience for movies is presumed to know better, to distinguish fact from fiction. The hip-hop audience, presumably, cannot".
Rather than face the reality as described by artists like N.W.A. and Onefour, law enforcement officials choose a heavy-handed, zero tolerance approach.
Kenan Malik of The Guardian concedes that while gang violence and urban conflicts are important issues, the roots of the problem are far more complex than a solution like banning artists can address.
There is no evidence that drill music causes gang violence. The authorities, though, want to be seen to be doing something. So they've turned drill musicians into scapegoats and criminalised music in a policy low in effectiveness but high in visibility.
This approach to gang policing has roots in US policy in the 1990s. Faced with rising crime rates in 1993, a large-scale experiment colloquially known as 'Broken Windows' was initiated. This crime philosophy was based on a peculiar study where a car was left damaged versus undamaged in different areas of LA. The damaged car would inevitably get looted almost immediately. The idea was that large-scale crimes could theoretically be prevented by policing against any and every infringement of the law, no matter how petty. If an area was seen to have less broken windows, then that area would end up having reduced overall crime.
One of the major proponents of 'broken windows' at the time was Rudy Giuliani. His 1993 campaign was based on the promise of reducing crime, and he breezed through to re-election in 1997 due to his positive results. However, in the decades since, the whole philosophy has come under renewed scrutiny, and ultimately been deemed a long-term failure.
The slow creep of authoritarianism meant that 'broken windows', however well-intentioned, evolved into the controversial 'stop and frisk' approach to police work. In 2013, a New York judge criticised the police force for behaving in a "racially discriminatory manner" by singling out minorities in stops and searches.
How this translates to suburban Western Sydney is yet to be seen in full. While the NSW police strike force Raptor Squad was set up as a zero-tolerance bikie gang deterrent (similar to the 'broken windows' concept), there is no evidence that their work has had any quantifiable success.
Now Raptor Squad is targeting Onefour and their associates in Mt Druitt. A former NSW detective went on record ahead of Onefour's appearance in New Zealand, saying that there is no evidence that this approach has even worked in Australia.
I'm not a bleeding heart liberal…but [the zero-tolerance strategy has] just been a disaster.

You need this community to trust you so that when things need to be brought into line, the police are able to go in and speak to people and find out who's … behaving really badly, and who needs to be put in jail. If you want those families to help the police … then you can't just tar them all with the same brush. And that's what Raptor does.
As tensions around Raptor and the Australian hip-hop community mount, anecdotal evidence also suggests that on the ground in places like Mt Druitt, a police bully culture has well and truly arrived. Locals feel uneasy and are subject to controversial 'stop and frisk' encounters daily, with both schoolchildren and teachers alike being questioned on their involvement with Onefour.
Simandjuntak expressed that he has no doubt that Raptor Squad had some sway on judges' decisions regarding sentencing members of Onefour. As the group's viral success carry them into a new year, the mood in Mt Druitt is tense.
In terms of the police, it's been pretty bad. They've stepped up the harassment of the members themselves…Now Strike force Raptor are going around Western Sydney trying to hold workshops and seminars spreading lies about Onefour to community members. So it's kinda getting pretty ugly with the police. But we kind of expected this too.

To add onto that, people are extra on edge with the police. They've ramped up a lot of their patrols and their influence in areas like Mt Druitt is a lot more aggressive and a lot more intimidating than it used to be.
Onefour are symbolic heroes for the people of Mt Druitt. They represent a reaction against something that locals are really unsatisfied with – whether it's poverty, social marginalisation, or police harassment.
What started as a simple feud about being able to perform concerts has evolved into a police force indiscriminately terrorising the people of Western Sydney.
I'm still writing raps on my broken phone
If anything, Aussies love an underdog story. Only this time, what if instead of it being a white immigrant who was an actual criminal (ala Ned Kelly), it's a motley crew of rambunctious Islander youths? The heavy-handed response from the NSW police echoes the played out narrative of authority figures facing a confronting reality. Rather than pause for self-reflection, they opt for blanket bans and boots on the ground, just as the FBI did in the 90s.
While Onefour may seem down on their luck now, this conflict has only galvanised the Australian hip-hop community. It has also had positive effects in wider creative circles. Simandjuntak highlights the immediate impact of Onefour's story, inspiring not just other hip-hop acts, but musicians, photographers, videographers, and fashion designers from Western Sydney.
The fact that Onefour did it on their own without any major label support or backing other than themselves, the fact that they were able to do it off the back of their creativity, it had a massive impact on kids in Mt Druitt.
For a nation still struggling with its multicultural identity, championing artists like Onefour is crucial. The group doesn't plan to stop. Despite the setbacks that the end of 2019 saw, they are continuing to write new raps, and are prepping an EP release, as well as having their sights on international scenes. Simandjuntak remarked: '"In The Beginning" was a title meant to end the first chapter of Onefour. What you've heard the last year was just the preface. Now we're getting into the actual story right now.'
As Spenny raps on their most popular track "The Message", even when faced with jail time and being ignored by everyone, he'll still be out there writing his reality rap for anyone who will listen, even if he has to do it on a broken phone.
---
Further Reading
It's perhaps also worth mentioning another controversial rap crew constantly faced with an antagonistic media – Long Island, NY's finest, Wu Tang Clan.

On their 2017 single, "People Say", they reference the media's obsession with portraying them as gangsters or killers. 
I'm not a shooter but I know shooters
And if them shooters don't shoot up, I'll go suit up
Redman and the W, it's televised
We ain't them niggas, media telling hella lies (Fuck you!)